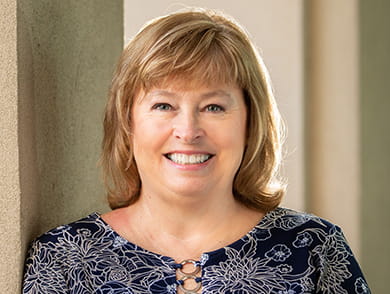 Jeannie
Hughes
Client Service Manager
Jeannie is dedicated to making sure the individuals and families we serve enjoy an exceptional client experience. She wants everyone to be comfortable contacting us for any reason and makes each interaction a pleasant one.
Jeannie manages and monitors all administrative functions. Typically, everything runs smoothly for our clients but when it's not Jeannie is there to puts things back on track.
"I love working with clients, and after four decades you would think that I've seen it all. The truth is this is a very complicated business and I think it's going to become even more so in the future. The best part of my job is knowing that I'm making a difference in someone's life by helping them solve their financial dilemmas," said Jeannie.
She began her career in 1978 at Wheat Frist Securities. In 1983, she joined Kidder Peabody, where she was the sales assistant to the branch manager. In 1992, she moved to PaineWebber to work with Claudia Bellars, and they have worked together ever since.
Jeannie is a Hampton Roads native and lives with her husband, David. In her free time, she enjoys crocheting, reading, and spending time with her family.