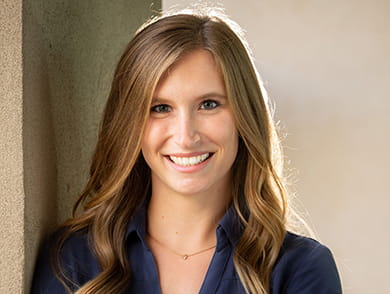 Laura
Savage
Client Service Associate
Laura is responsible for the overall systems and processes we use at Bellars Harris Wealth Management. Specifically, she opens new accounts, confirms client calls & meetings… basically keeps everything running smoothly. In addition, Laura schedules the daily activities of Axel and Zach in much of the same way that Jeannie manages the daily activities of Tim, Claudia, and Brad. Laura plays an important role in the multigenerational approach of our practice.
Laura started in the business in 2013, but she has been part of the Bellars Harris family since 1992 when her mother, Jeannie, began working with Claudia. "Growing up seeing how happy my mom was in her career really inspired me. Watching how fulfilled she was helping other people really spoke to me. I believe I'm making a difference in someone else's life," Laura says.
Laura was born and raised in Hampton Roads, Virginia. In her free time, she enjoys spending time with her husband Zack and son Damon. The three of them can often be found either paddle boarding, going to the beach, or taking family trips to the Norfolk Zoo.
---
New Client Onboarding